Fluorescence optical devices rely on the fundamental role of fluorescence filters, which serve as the core elements within such devices. The production of high-quality filter sets is indispensable for achieving precise and sharp imaging as well as optimal performance in fluorescence microscopy applications. At Avantier, we specialize in crafting fluorescence filters that cater to diverse applications. Our offerings include filter cubes and filter wheels, both of which play pivotal roles in fluorescence microscopy.
Fluorescence Microscopy Unveiled
Fluorescence microscopes are ingeniously designed to detect the presence of fluorophores within a sample. These fluorophores can either be naturally occurring or intentionally introduced through dyes and labeling. A key principle underpinning their detection is the unique behavior exhibited by fluorophores: they absorb energy at specific wavelengths (known as the excitation range) and subsequently emit this energy at distinct wavelengths (referred to as the emission range). This distinctive behavior enables the identification of various fluorophores based on their absorption and emission characteristics.
Intriguingly, each type of fluorophore boasts its own individual excitation and emission spectra, each characterized by a specific peak wavelength. This distinctiveness grants us the ability to differentiate between fluorophores either through their excitation spectra, emission signals, or the interval between their peak excitation and emission wavelengths, known as the Stokes shift. This foundational principle forms the basis for all fluorescence microscopy systems, spanning from the straightforward epifluorescent microscope to the more intricate setups found in multiphoton systems.
The Essence of Fluorescence Filter Sets
Central to the architecture of each fluorescence filter cube are three essential optical filters: the excitation filter, the dichroic mirror, and the emission filter.
Excitation Filter (Exiter): This component, also known as the exiter, operates as a bandpass filter with the specific purpose of permitting only those wavelengths of light that are eagerly absorbed by the targeted fluorophore. Its role extends to minimizing undesired excitation from external light sources and other potential fluorescence sources. Furthermore, it effectively blocks any excitation wavelength light that falls within the fluorescence emission band. The brightness and brilliance of the final image are determined by the minimum transmission level of this filter. Generally, an excitation filter is considered adequate if it achieves a minimum transmission rate of 40%. For a well-lit and vivid image, a transmission rate exceeding 85% is recommended. The background darkness, as indicated by the optical density, should ideally reach a minimum of 3.0, preferably inching closer to 6.0. The excitation filter should be meticulously selected so that its center wavelength (CWL) closely aligns with the fluorophore's peak excitation, while the bandwidth remains entirely encompassed within the fluorophore's excitation range.
Dichroic Mirror (Dichromatic Beamsplitter): Operating as a specialized edge filter, the dichroic mirror plays a vital role. Positioned at a 45-degree angle of incidence, it demonstrates the ability to reflect light within the excitation band's wavelengths while concurrently transmitting light within the emission band. This arrangement ensures the smooth passage of light from the emitter to the detector, facilitating the desired optical outcomes.
Emission Filter (Emitter): Serving as another crucial bandpass filter, the emitter filter exclusively permits the passage of light emitted by the fluorophore. It effectively blocks excitation light and all other extraneous light, spanning from ultraviolet to infrared wavelengths, thereby enhancing the accuracy and specificity of the emitted light's detection.
In essence, the intricate interplay of these three fundamental filters within a fluorescence filter cube empowers fluorescence microscopes to precisely capture and discern fluorescent signals. This orchestrated synergy between excitation, transmission, and emission filters culminates in the creation of detailed and informative fluorescence microscopy imagery. At Avantier, our commitment to producing top-tier fluorescence filters ensures the realization of high-definition imaging and the advancement of fluorescence microscopy across various applications.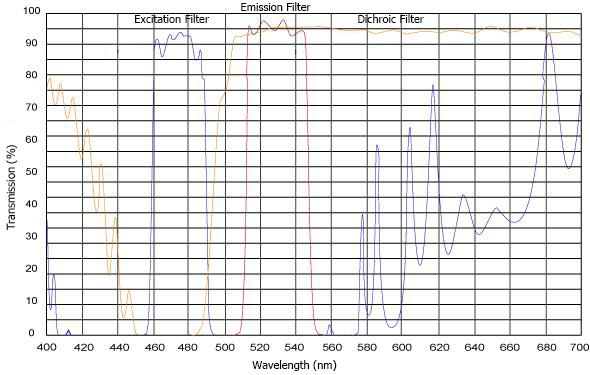 1. A fluorescence filter set includes an excitation filter, an emission filter, and a dichroic filter. The figure above shows the coating curves of an excitation filter designed for passing excitation range 480nm~ 500nm, emission filter designed for passing emission range 515nm ~ 545nm, and dichroic filter (i.e. long pass filter) designed for reflecting excitation wavelength and passing emission wavelength.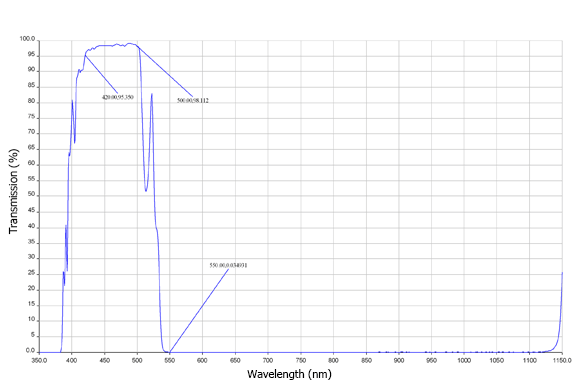 2. The figure above shows a transmission plot of an excitation filter which is a narrowband pass filter designed for passing excitation range 420nm~ 500nm and blocking the wavelength range 550nm ~1100nm.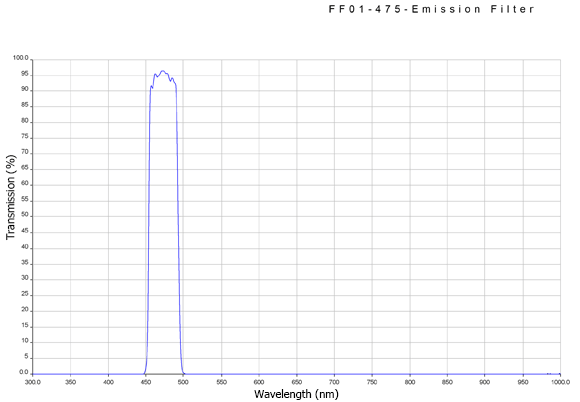 3. The figure above shows a transmission plot of an emission filter which is a narrow bandpass filter with FWHM of 40nm and center wavelength at 475nm.
Our meticulously designed high-performance fluorescence filter cubes are optimized to transmit ideal wavelengths for vibrant, high-brightness imaging, while effectively blocking extraneous light that may diminish contrast. By eliminating system autofluorescence and excitation light, our filters deliver a robust signal-to-noise ratio and a dark background essential for precision imaging.
In scenarios where luminosity takes precedence over contrast, a longpass edge filter can replace the standard bandpass filter in the emission role. This choice enables the transmission of longer wavelengths, resulting in a brilliantly illuminated image.
Integrating a multiband excitation filter, a matching emission filter, and a polychroic beamsplitter forms a full-multiband filter set. This configuration adeptly captures all fluorescent tags, accommodating diverse fluorophores with exceptional efficacy.
Key Features
High passband transmission (T>90%)
Excellent blocking (OD>6.0)
Hard coatings and no adhesives for long filter life
All dielectric coated with IBS technology
Application
Fluorescence microscope
Co-localization fluorescence measurements
Fluorescence In Situs Hybridization (FISH)
Comparative Genomic Hybridization (CGH)
Gel and spot Imaging comparisons
Fluorescence Filter Factory Standards
Diameter: 18.0, 20.0, 22.0, 25.0mm
Diameter Tolerance: +0/-0.1mm
Passband Transmission: T>90%
Angle of Incidence: 0° +/- 5°
Beam Deviation: <11 arc sec.
Transmitted Wavefront: 1/4λRMS@633nm
Operating Temperature: -45°C~85°C
Environmental Durability: MIL-STD-810F
Temperature Dependence: <5ppm/°C
Blocking OD>6.0(typical): UV-700nm, λc<500nm UV-925nm, λc>500nm
Physical Durability: MIL-C-48497A
Substrate: Low Fluorescence BK7 or Equivalent
Choosing a Fluorescence Filter
At Avantier we produce a wide range of fluorescence sets that are designed with the excitation and emission filters suitable for each commonly used fluorophore. For specialized applications, such as those using multiple fluorophores, alternate dichroic filters or laser sources, we are able to produce custom filter sets upon request. Please contact us to discuss the specific requirements of your application and to get a free consultation and a price quote.
WE CAN HELP YOU!
Contact us NOW for sales & expert advice.