Optical Quality
In the realm of precision optics, ensuring optical quality demands meticulous measurement and alignment of aspherical lens surfaces. Avantier Inc., a leading provider of custom optical components and lens assemblies, is dedicated to upholding professional accuracy in metrology services. A cornerstone of their commitment lies in their use of the OptiCentric® instrument series, particularly the OptiCentric® 100 Dual. These instruments not only epitomize innovation but also signify Avantier's dedication to delivering top-tier optical solutions.
Enhancing Efficiency with OptiCentric® 100
The OptiCentric® 100 system has witnessed a significant advancement with the integration of motorization capabilities. While manual solutions were effective, the motor-controlled tool stage introduces heightened efficiency and precision. This innovative feature allows not only horizontal (x) and vertical (z) adjustments but also precise tilt angle (theta) adjustments. As aspherical surfaces demand variable tilt angles, the motorization feature ensures optimal alignment with the surface, enabling seamless transitions between different lens and barrel types. This advancement streamlines processes, enhances reliability, and underscores Avantier's pursuit of excellence.
OptiCentric® 100 Dual: Overcoming Multi-Lens Measurement Challenges
Multi-lens lenses present unique challenges in terms of centration measurement. The discrepancies between actual and target measurements can propagate, leading to reduced accuracy, particularly in rear lens surfaces. TRIOPTICS addresses these challenges with the OptiCentric® 100 Dual, an instrument featuring two measurement heads positioned above and below the sample. This configuration enhances flexibility and accessibility when assessing complex lens systems.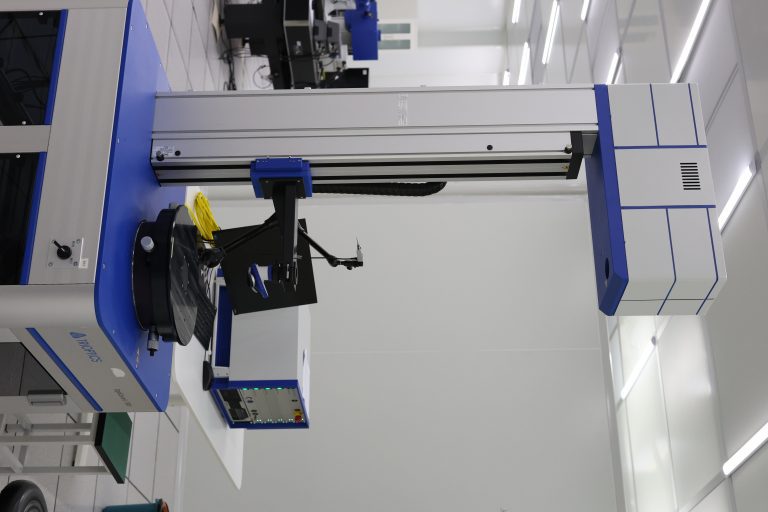 Introducing the OptiCentric® 100 Series: Stability and Efficiency Amplified
The OptiCentric® 100 series represents a remarkable evolution in measurement head stability and process efficiency. An exceptional addition to this series is the OptiCentric® 100 Dual, which enables concurrent utilization of both measurement heads. This innovation employs stroboscope illumination to ensure exclusive registration of light by corresponding heads, avoiding interference. Simultaneous measurement reduces the time needed for assessing multi-lens systems by up to fifty percent, a substantial advantage in production testing.
Comprehensive Lens Alignment and Measurement
The OptiCentric® 100 Dual's capabilities extend to lens alignment. It enables simultaneous monitoring of lens or objective axis inclination and displacement, covering all degrees of freedom. This efficiency negates the need for iterative adjustments, streamlining processes and maximizing productivity.
OptiCentric® 100 IR: Versatility and Integration
The OptiCentric® 100 IR takes versatility to new heights. Unlike prior infrared centering measurement systems, all three measuring heads – visual, medium-wave, and long-wave infrared – can be integrated into a single compact tabletop device. This integration caters to a broad range of optical needs, including the inspection, assembly, and characterization of lenses. The intuitive operation and compact design make the OptiCentric® 100 IR a versatile and space-saving solution.
OptiCentric ® 100 Specifications
Measurement accuracy in visual range
≤ 0.1 μm
Lens rotation

Air bearing AB 100
Motorized lens rotation device

Minimum sample diameter
0.5 mm
Maximum sample diameter

With air bearing AB 100: 225 mm (280 mm with restrictions)
With lens rotation device: 200 mm

Maximum sample weight
20 kg
Linear stage
Motorized and PC-controlled
Measurement head for visual spectral range
Electronic autocollimator Standard: 200 mm effective focal length
Light source
High power LED light source Standard: λ = 525 nm
Elevating Optical Precision and Innovation
In the pursuit of optical excellence, Avantier Inc. demonstrates unwavering commitment through its adoption of the OptiCentric® instrument series. The OptiCentric® 100 Dual embodies Avantier's dedication to precision, innovation, and process reliability. These instruments not only redefine metrology services but also reflect Avantier's leadership in the field of custom optical components and lens assemblies. As the optical industry continues to evolve, the OptiCentric® instruments pave the way for enhanced accuracy, efficiency, and optical quality. Please contact us if you'd like to schedule a free consultation or request for a quote on your next project.
WE CAN HELP YOU!
Contact us NOW for sales & expert advice.