Precision Reflector
Avantier, with over 55 years of expertise in optics manufacturing, offers customized Precision Reflectors designed to meet the specific requirements of their customers. Here is an overview of these Precision Reflectors and their key features:
Applications:
Precision Reflectors are versatile optical components suitable for a range of applications, including:
Laser Beam Concentration: They can efficiently concentrate laser beams, which is important in various laser applications.
Quality Imaging: Precision Reflectors contribute to high-quality imaging by providing precise and controlled reflection.
Enhancing Light Output: These reflectors can be integrated into projection and illumination systems to improve the quality and efficiency of light output.
Optical Properties:
All spherical mirrors offered by Avantier have a focal length equal to half their radius of curvature. This property is fundamental to their optical behavior.
Construction:
The Precision Reflectors consist of a front concave spherical section.
The reflective surface is polished on a BK7 substrate, a type of optical glass known for its optical clarity.
To enhance performance and durability, the reflective surface is coated with both aluminum and MgF2 (magnesium fluoride). The aluminum coating provides high reflectivity, while the MgF2 coating protects the reflective surface.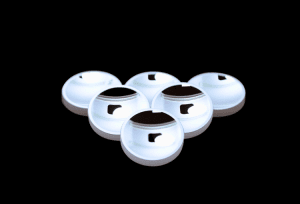 Standard Sizes and Customization:
Standard sizes for these Precision Reflectors are available in 1-inch and 2-inch diameters.
Customers have the flexibility to choose from a wide range of curvatures, spanning from 50mm to 4 meters. This range allows for tailoring the reflectors to specific optical requirements.
Avantier also offers the option for custom sizes, diameters greater than 100mm, and other radii of curvature, providing a high degree of customization to meet unique application needs.
Specifications
| | |
| --- | --- |
| Spherical Tolerance | λ/4 |
| Diameter | +0, -0.2mm |
| Surface Quality | 40-20 |
| Clear Aperture | >90% diameter |
| Radius of Curvature | +2% |
| Bevel | 0.2mmx45°typical |
| Thickness | +0.2mm |
| Material | BK7 |
| Durability | to MIL-C-675 |
| Reflectance | R>85% (350-1550nm) |
Our optical engineers are available to provide Precision Reflector consulting and can help you design and produce a mirror that best matches your application. Feel free to contact us with a request for a quote or more information on custom options.
WE CAN HELP YOU!
Contact us NOW for sales & expert advice.