Versatility Across Applications
Dichroic filters, also referred to as thin-film or interference filters, serve as precision-crafted optical marvels designed to transmit light within an exceptionally narrow wavelength band while adeptly reflecting all other wavelengths. Positioned at a 45-degree angle to the light source, these filters work their magic by allowing specific wavelengths to elegantly pass through, while redirecting blocked light at a 90-degree angle. When engaged with a white light source, the filtered output emerges deeply saturated in captivating color. For instance, a red filter graciously ushers forth red wavelengths while artfully reflecting cyan. Meanwhile, the green filter extends its embrace to green light while casting a magnetic reflection of magenta.
At Avantier, our dedication to excellence shines through in the creation of high-caliber dichroic filters, spanning longpass, shortpass, bandpass, bandblocking, and color correction variants. With unwavering precision, each filter is meticulously shaped to exact specifications. A distinct advantage lies in the intrinsic integration of color within the filter itself, a feature that ensures longevity beyond the capabilities of conventional counterparts. This intrinsic resilience translates into an extended and reliable operational life. Notably, our dichroic filters are endowed with an impressive laser damage threshold, setting them apart as stalwarts in the realm of optical filtration.
Diverse Avatars of Dichroic Filters
Venturing into the diverse realms of application, dichroic filters unveil their prowess as integral components within LCD projectors, laser harmonics separators, and the captivating worlds of fluorescence microscopy and multispectral imaging. Additionally, their adaptability extends to roles as cold or hot mirrors, and even in monitoring the purity of UV water purification processes.
Cold mirrors and hot mirrors, two dynamic derivatives of dichroic filters, embark on the mission of heat management within a system. A cold mirror, positioned behind a light source, elegantly reflects the entire visible spectrum forward, while ushering unwanted near-infrared (NIR) light away at a graceful 45-degree angle. In contrast, a hot mirror champions the cause of NIR heat, reflecting it resolutely while ushering visible light outwards at a dignified 0-degree angle.
Avantier: Leading the Dichroic Frontier
Embodying the pinnacle of engineering artistry, our state-of-the-art dichroic filters boast a seamless transition from reflection to transmission. The pass band is marked by exceptional transmission prowess, a testament to our commitment to precision. Employing ion beam sputtering (IBS) technology, our filters emerge as epitomes of dielectric perfection, fortified by robust hard coatings that transcend the limitations of adhesives. This choice empowers our filters with remarkable resistance against abrasion and temperature fluctuations.
Crafted from UV-grade fused silica, our factory standard dichroic offerings exemplify resilience and versatility. Operating within a temperature range of -45 to approximately 85 degrees, and positioned at an angle of incidence of 45.0 degrees, these filters embody excellence. With thickness tolerance limits finely tuned to ±0.1 mm and a clear aperture spanning at least 95%, our standard dichroic filters exhibit dimensions of 25.2 mm by 35.6 mm by 1.1 mm.
Key Features
Sharp transition from reflection to transmission
High transmission in pass band
Hard coatings and no adhesives for long filter life span
All dielectric coated with IBS technology
Factory Standard
Angle of Incidence: 45.0°
Shortpass Type Transmittance: Tabs>85%
Dimensions: 25.2mmx35.6mm x 1.1 mm
Clear Aperture: >95%
Operating Temperature: -45°C ~ 85°C
Physical Durability: MIL-C-48497A
Longpass Type Transmittance: Tabs>90%
Reflection Band: Rabs>98%
Thickness Tolerance: ±0.1 mm
Transmitted Wavefront: 1/4λRMS@633nm (per inch)
Environmental Durability: MIL-STD-810F
Substrate: UV Grade Fused Silica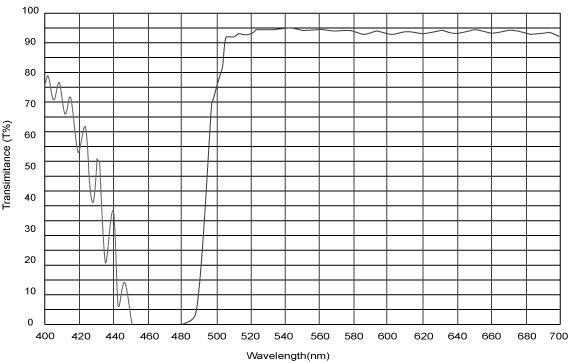 Dichroic Shortpass Filter
Unleash the Potential: Custom Dichroic Filters
Harnessing the full spectrum of our expertise, we stand poised to craft bespoke dichroic lenses tailored to your precise specifications. Engage with us to explore the canvas of available substrates and uncover the possibilities nestled within custom requirements. Backed by a team proficient in crafting optics for diverse applications, we extend a guiding hand throughout the entire journey – from conceptualization and design, through the realm of prototyping, and onward to the realm of production. With Avantier, the landscape of optical innovation welcomes you to explore, envision, and elevate your optical aspirations. Please contact us if you'd like to schedule a free consultation or request for a quote on your next project. 
WE CAN HELP YOU!
Contact us NOW for sales & expert advice.