Fixed focal length lenses
Fixed focal length lenses deliver reliable performance and high quality imaging at a pre-determined focal length. At Avantier we produce custom fixed focal length lenses for robotics, machine vision, and many other applications. 
Understanding Fixed Focal Length Lenses
A fixed focal length lens is a multi-lens assembly with a constant focal length and singular angular field of view, designed for easy integration into imaging systems. These lenses may be known as prime lenses, factory automation (FA) lenses, or when supplied with a C-mount system, C-mount lenses. 
The focal length of a lens can be defined as the distance from the lens to the point where the image is sharpest. Both magnification and angle of view depend on focal length.
A fixed focal length lens has no zoom capability but it is not limited to imaging at just one distance. Most fixed focal length lenses will have an optimal working distance and a minimum working distance, but no maximum. That means they can be used to image faraway objects as well as those optimally placed.  Objects far away will seem to be smaller than those which are close to the lens. Fixed focal length lenses are often designed with larger maximum apertures that allow wide angles, large fields of view, and sharp, high resolution pictures even in poor light conditions.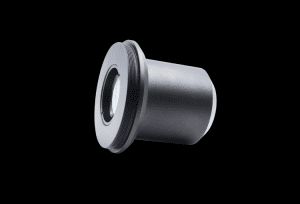 Applications of Fixed Focal Length Lenses
Fixed focal length lenses are often incorporated into machine vision and robotic systems where reliability is key. In research and medical imagery, surveillance and defense, industry, and conservation, these lenses form the 'seeing eye' of a thousand different machine vision applications. 
Fixed focal length lenses are also important in photography. While many photographers appreciate the flexibility that zoom lenses offer, the best shots at a given focal length are usually taken by a fixed focal length lens. This image quality difference between a prime lens and a zoom lens is especially pronounced when it comes to long focal range.  Prime lenses with large apertures also give a shallow depth of field, enabling the bokeh backgrounds often seen in portrait photography
Fixed Focal Length Lenses
Custom Fixed Focal Length Lenses at Avantier
Avantier is proud to be a premier custom fixed focal length lens producer for machine vision applications, robotics, and photography.  We can produce compact fixed focal length lenses for integration into machine vision systems, or long range lenses for applications where the working distance is large.  VIS-NIR lenses function well in the visible and near infrared spectrum, and SWIR lenses are best for night vision and other short-wave infrared applications.   
State-of-the-art manufacturing equipment and an experienced optical design team enable us to provide our clients with exactly what they need,  whether they are at the initial planning stages with no more than a list of desired features or have a ready-to-go design ready to be prototyped. 
An extensive metrology department ensures that each optical component and system, including every fixed focal length lens, is carefully tested to adhere to all manufacturing requirements and all applicable standards.  When you order a custom optic from  Avantier, you know you are ordering quality; a high-performance optic that will perform as promised. Contact Avantier today to place your order or schedule an initial consultation with our design engineers. If you are looking for stock options, visit Stock – Fixed Focal Length Lenses.
WE CAN HELP YOU!
Contact us NOW for sales & expert advice.